Crabfu SteamWorks @
2007
Sorry, but this isn't a coverage of Maker Faire, but just what went on at my
table. I was so swamped and didn't even have time to take lunch break, or
checked out much of the show. For full Maker Faire 2007 coverage, please
check out the links on the bottom of the page!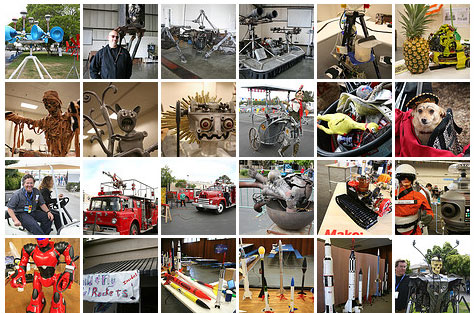 photos by
Laughing Squid
I was lucky enough to be part of
Maker Faire
again this year. The event was spectacular, full of creative projects,
and things that just makes you wonder and smile. Maker Faire isn't just a showcase of creative people
showing off their unusual projects, but for people who are interested in making things of all types, to see, chat, and
be inspired by the makers and what they make. I was very inspired by all of the projects just around my table.
One of the most satisfying things for me at Maker Faire, was seeing the smiles on people's faces. I just find it amusing
that "grown-ups" can't stop asking over and over: "why.... why.... how... why... but why...?"
The event lasted 2 Days, and it was much bigger than last year, over 400 makers and expected 40,000
people attending the show. I don't know of the official final count, but it sure was packed, a lot more
than last year! I brought 7 steambots - Rover, Walker, Centipede, R2S2, Trilobite, Turbine, and Beetle.
Somehow I ended up with absolute prime real estate at the faire. From our table, you can see the main gate,
and early birds were packed and lined up way before the show, which was quite an intimidating
sight. If the gates weren't opened right on time, I'm sure that these guys would have stormed it.
Opening of the gates on day 1, pic taken from my table
Luckily, my girlfriend was once again helping me with the show. I was glad that this year Maker Faire included
a lot of the crafts, which gave her the opportunity to join in on some craft workshops.
Her siste
r had a
booth at the crafts area, showing off her creations as well! It doesn't matter if you prefer gears or yarn, cute or
dangerous, there are just so much to see, do, and learn.
My girlfriend and me at the Crabfu SteamWorks table
Improvements of the steam machines for the show:
For the Maker Faire, I added steam whistles via R/C to the Trilobite tank and Rover, and
upgraded them all to Spektrum, to avoid the interference and fighting for r/c frequencies. Spektrum
performed awesome, with
RoboGames & combots
and so many other r/c bots around, it had no
glitches what so ever in the 2 days, no run away steambots!
Other preparations included fixing the bouncing problem with the Steam Turbine Tank, which
commanded an audience every time that it steamed it up. At one point, 5-6 fire marshals
came to check it out, and I thought that they'd ask me to shut it down because of the fire codes.
After about 10 minutes of carefully studying it from a distance ( with perfect poker faces) they just walked away.
I couldn't really tell if they were concerned or amused, but they didn't stop me for firing up. Thanks guys!
The digg button!
Also for the Faire, My girlfriend soldered together the
Digg Button kit from Adafruit
. This was her very first
electronics / solder project, and she did a great job. Probably most of you who are reading this
know and use
digg
, this button simply keeps count of the diggs. I heard one guy said that this was
the coolest thing at maker faire, and when I asked him if he was referring to my steambots or the button,
he replied " the button" :)
Digg button
, pic from
gizmodo!
Unfortunately, I was not prepared enough for the show... the button would turn itself off if no one pushed the
button in a while. A lot of people didn't know what it was or what you do with it. Finally someone said that
I should put a sign on it so that people would push the button. After doing so, I received about 160 diggs until it
was reset by a kid. Then after another 180 diggs or so, the battery solder came loose. I should have put it
in a case, the battery was rubbing against the table every time the button was pushed, and eventually
wore out the solder. The button lasted about half of the first day, and received more than 300 digs. In
future upcoming events, I'd be sure to put the digg button it a case and keep track of all of the diggs at
each event!
RC Driver
& Robot Magazine Booth
Robot Magazine
/
RC Driver magazine
had a booth next to my table. They've featured me several times in their
magazines, and I was honored to have my steam centipede shown at their booth. We also had a great time
hanging out and chatting with George of Robot Magazine, and Leo & his son, from M5 Industries.
With George and Leo at the Robot Magazine Booth.
Steam Centipede, loaned to Robot Magazine Booth, photo by
Engadget
Thanks everyone!
Thanks to all of my friends who came by to check out the show! We saw a lot of familiar faces,
met up with some friends that I've never actually met in person, as well as made lots of new friends.
I am sorry for all of the makers that I was planning on getting together with at the faire, but did not
get a chance to. I'm sure that you guys were as swamped as I was :)
And for all of you geek media coverage people... you've taken lots of great pics of my steambots
and posted them, thanks!!! but next time please let me know who you are! I'd love to thank you for
coverage past and present, and steam up for you guys!
And last but not least... I'd like to especially thank everyone at
MAKE
, who made
all of this possible. Your hard work gave us a lot to dream about, and put smiles on many "kids"
of all ages. It's good to know that I'm not the only nutty one on this planet, and that there are at least
a few hundred freaks out there doing something wackier than me. Thanks for the opportunity
to be part of this amazing event. Now if you'd excuse me, I need to go gag now.
Pics:



Steam Powered R2 drew a lot of smiles


100mpg? I think I get around 100 feet
per gallon



Turbine and walker


Rover pulling a couple of kids
photo by Jérémy



"what are you looking at kid? never seen a grown man being pulled by a steam powered beetle before? "


Crowd gathered every time the Jensen Turbine was fired up


The list of makers... makes steam powered robots seem normal



Steam Beetle



Turbine and walker



Steam beetle, photo by Laughing Squid



Interview with CBS News!


With my biggest promoter, Phillip of MAKE!!!


Steam Trilobite, photo by Laughing Squid

R2S2, photo by

Laughing Squid


Steam Rover, photo by Laughing Squid







Video taken by Leo from the Robot magazine Booth, thanks Leo!!!
TONS
of people took videos of my steam contraptions running, so I did not take any videos
figuring they'd turn up on youtube. However, there isn't much on youtube / google video of my
steamups. If you have videos, please post them up! :)

Links:
Engadget coverage of Maker Faire
Gizmodo coverage of Maker Faire
Laughing Squid coverage of Maker Faire
Boingboing coverage of Maker Faire

Crave - Cnet coverage of Maker Faire

Wired coverage of Maker Faire
My Flickr set of my table @ maker faire
Blog Cadre blog of Crabfu Steamworks
flickr pics tagged with maker faire
pics & coverage of Maker Faire 2006
Videos:
TMIV and the dude video
google video / youtube tagged with maker faire
Back to Crabfu SteamWorks